Company culture is like art: it is unique, it's easy to grasp and yet so hard to explain. It is also up for discussion whether people in a company define culture or culture defines people. Still, given all these, can we say anything in general about it?
Culture is about how things are done
Let's get straight to the point and try to define the notion of culture. Culture is a system of socialisation adopted in a specific group and determines the rules of behavior within it. The way people communicate in a company is culture, how they approach work, whether they show initiative or not – this is also culture. What employees get rewarded for is a matter of culture as well. Whom and how to hire is also an important cultural issue.
Basically, culture is a system of beliefs, norms of behaviour, attitudes and values that decides how people should work and behave in a company. In this case, we are talking about beliefs and values that are more or less shared by the overwhelming majority of employees in the company.
Types and layers of culture
There are four types of culture according to Robert E. Quinn and Kim S. Cameron which they described in Diagnosing And Changing Organizational Culture: Clan is where team members are like family, they share success and failures, and always support each other. Adhocracy is about the absence of strict hierarchy and working process standards – one person can be both an accountant and HR or whoever the company will need at that moment. Market culture encourages competition among employees, rewards and punishes them, and the Hierarchy culture has plenty of formal internal rules, strict instructions, and highly structured activities.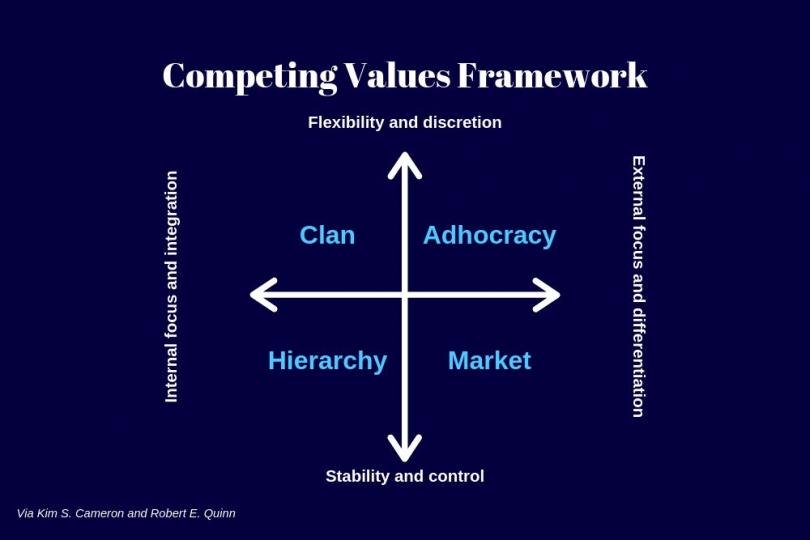 In fact, companies usually adopt a mix of a few different cultures but there is always one which is dominant
Also, any culture consists of an external and an internal layer. The external layer (visible) consists of various attributes and proclaimed goals – logo, symbols, advertising slogans and mottos. The internal layer is a leadership system (to what extent the leader participates in projects), methods of solving conflicts, values and norms that determine and regulate the behaviour of employees within the company, communication system, etc.

Some say that culture is a business issue, not an HR issue. According to Inc.com:
"It's a business issue that's measured and improved to drive strategy. It's not a recruiting tool to get people in the door, but rather a business tool used to inform employees, candidates and even customers on how you operate.
A high-performing culture is three things: strong enough to attract talent that raises the bar on what's possible in your company, remarkable enough to keep employees engaged and excited to come to work every day, and transparent enough to identify and iterate on feedback. Done right, culture should have a seat at the executive table. But, equally as important, culture should have a place in every employee and manager's mindset as part of their core role at the company. It should be a living, breathing thing that you iterate on based on feedback, and should serve as a promise to your employees and your customers on how you approach your business."
How to 'kill your culture'
There are also good business reasons for cultivating great company culture. Improving culture doesn't just boost the team spirit and morale, Gallup research shows that companies with highly engaged employees have a 21 percent greater profitability.
There are many ways that you can improve company's culture and boost your team's spirit – from embracing transparency, recognising & rewarding valuable contributions to encouraging innovation or cultivating relationships, and many insightful articles written about the topic. Just Google 'How to improve company culture'. But there is one thing that beats them all! 😉 Before we get to that, let's have a look at things that don't usually work..
Free food & office dogs as a 'perk'
Forbes Coaches Council share
"Benefits that appear to encourage employees to work longer hours could backfire. For example, Google has offered free food, free buses with Wi-Fi that transport employees to and from work, and the ability to bring their dog to work. Some employees felt that the Wi-Fi on the buses was designed to encourage them to work during their transit and that meals were meant to incentivise them to work later."
Over-promise & under deliver
According to G2Crowd:
"A common pitfall of some companies is overpromising to employees and then falling short of expectations. While it's important to be transparent with your employees about the changes that are coming, you should be careful not to roll out any company culture initiatives before they are ready. Remember to start small and expand your program slowly to avoid any missteps."
Keep all the credit for yourself
Don't take all the credit of your company's achievements. Taking credit of someone else's work is the exactly what you should not be doing if you care about cultivating your culture and setting up a good example.
Avoid responsibilities & disappear in crisis
The last thing you want to do is to shun your responsibilities and disappear when things get rough. Whether its due to COVID-19 or other reasons outside of your control, sometimes things do not go as planned. Stay strong, support your team and do whatever it takes to get your business back on track!
Fire people who don't match your culture
Hiring is hard, and firing even harder. To prevent that, don't go only for people that have the best qualifications and experience. They'll probably do the job right, but will they be a great fit for your culture? When hiring, consider cultural fit, not only CV.
Culture hack: Plan a Company Offsite Your Team Will Love
The internal atmosphere of the company is vital for its healthy functioning and goal achievements. The source of productivity is motivation and motivation is an important factor of culture. To maintain inspiring and motivating environment, bonding events or activities that are not only exciting but also effective, should be included in the culture. New social bonds that are beneficial for the employees' professional lives are created when they interact in an informal setting.
That's why many successful companies have decided to make team retreats an integral part of their culture. A team of like-minded people who work together to achieve common goals get much better results in a shorter period of time than working alone. Team retreats and offsites contribute to building a psychologically healthy team. This way, team members get effective communication skills which are the ability to establish interaction and find a common language. To learn more read our article – The Advantages of Organising a Team Retreat.
It is important to remember that culture has to be tailored to a company. The culture focused on the motivation of employees lets them achieve their goals, which means directly promote the company and its product. Companies with a culture look more reliable and stable. It helps an employee quickly fit in, get the feeling of being an inseparable part of the team and so work productively.
Both hidden and obvious problems can be successfully solved when adopting a suitable culture. Motivated employees get more loyal to their company and feel proud being a part of it. This is what employers usually aspire for. And this is why they care about the culture and the atmosphere in their teams.
Do you care about your company's culture? If you want to improve it, then taking your team offsite to an inspiring location is always a good idea! Such a bonding experience will be a valuable asset to any organisation and we are happy to assist with it.