Organising team travel can be daunting, with countless details to keep track of and manage. But with the latest update to the NextRetreat App, we aim to make another part of the process as seamless and stress-free as possible. This is our core mission and most significant value.
These two new features are:
Expenses tab – helps you keep track of all your expenses.
Reviews tab – collecting and managing trip reviews from your team.
Let's dive in and talk in detail about each feature.
1. Expenses – stay on top of all team trip expenses
This new tab allows users to easily track their expenses during and after their trip, making it easier to stay on budget and organised. For example, you can input the cost of flights, accommodation, meals, transportation, and more so you can see all your expenses in one place. It's super simple. Just add any expense, categorise it, attach an invoice or receipt if you have any, and other details.
This way, you can avoid any surprises when it comes time to settle the bill or if you need to generate an expenditure report after your trip. You will also find it handy to keep all the digital receipts in one place.
Check out a simple walkthrough video from my colleague Inna:
2. Reviews – collect post-trip feedback from your team mates
In addition, we've also introduced a Reviews tab that allows users to gather essential feedback from their colleagues. This feature is perfect for better understanding what worked well on the trip and what could be improved for future team travels.
It allows you to gather feedback from your colleagues on everything from the accommodation, transportation, and activities to the overall trip organisation or even the NextRetreat App. Or you can create any custom question you'd like.
With this feature, you can ensure that your next team trip is even better.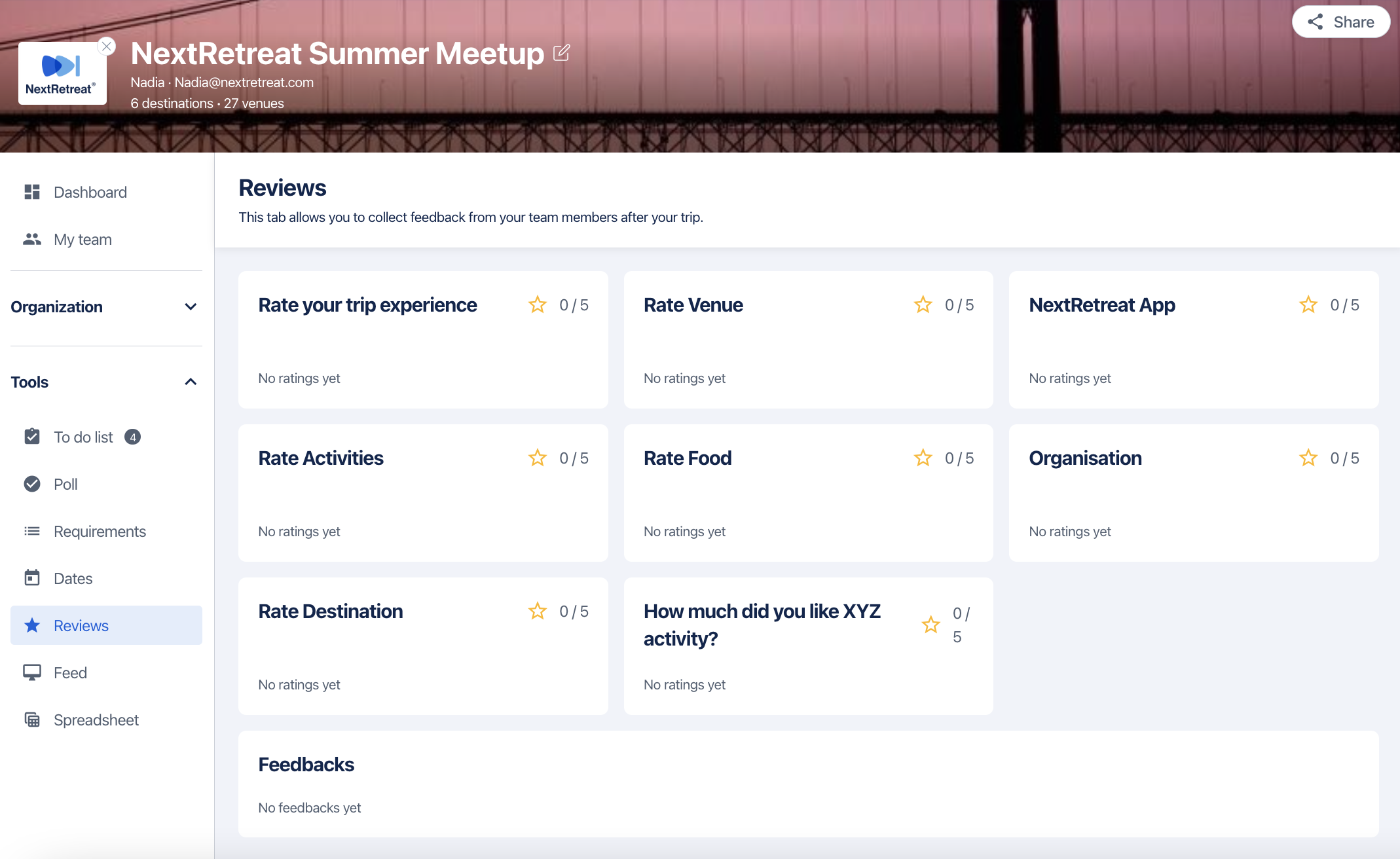 My colleague Inna walks you through the Reviews tab in our short video. By the way, you can also find our entire Crash Course at this link.
Overall, these new features are useful and handy for team trip planners and can help them organise team travel much more efficient and stress-free.
In short, the expenses tab lets you keep track of your finances and stay on budget. At the same time, the reviews feature allows you to gather feedback from your colleagues, ensuring that your next team trip is even more successful.
Got ideas? Help us make team travel organisation even easier!
Our team is always looking for ways to improve the NextRetreat App, and we know that our users are the best source of inspiration. We encourage our users to share their ideas and feedback about new features. We want to hear about what they need and want and how we can make our tools more helpful for organising team travel.
If you have any ideas for new features or suggestions for improvements, please don't hesitate to contact us. Your feedback is valuable, and it helps us move forward and build an even better product.
You can drop us your ideas, suggestions or feedback via product@nextretreat.com, and we we'll get back to you as soon as possible. Thank you in advance!
One more thing! We're still running a three-month-long trial for every new account created. So go ahead and try it out yourself.