Tenerife is the biggest and the most populated of seven Canary Islands. It is one of the most significant tourism destinations of the world. The island was born thanks to volcanic events that happened around 20-50 mil. of years ago. The dominant of the island is Pico del Teide peak with the height of 3,718m, which makes him the highest peak of Spain and the third biggest volcano peak in the world. Last eruption of the volcano occurred in 1909 through Chinyero shaft and the volcano is hibernating ever since.
Teide was a sacred mountain for the aboriginal inhabitants called Guanches. It was considered a mythological mountain, as Mount Olympus was to the ancient Greeks. According to legend, Guayota (the devil) kidnapped Magec (the god of light and the sun) and imprisoned him inside the volcano, plunging the world into darkness. The Guanches asked their supreme god Achamán for clemency, so Achamán fought Guayota, freed Magec from the bowels of the mountain, and plugged the crater with Guayota. It is said that since then, Guayota has remained locked inside Mount Teide. The Guanches also believed that Teide held up the sky.
Biodiversity and geo-location of the Island are probably two main reasons why Tenerife is so popular. The coastline is 269km long and offers countless possibilities for bathing, sunbathing or water sports, such as surfing or kitesurfing. Tenerife allows you to enjoy the warm ocean all year long. Average water temperatures throughout the year stay between 18 and 26 degrees celsius. Trails and small country roads are spread across the entire Island, making it perfect destination for hiking, trail-running, biking or other outdoor activities.
Very recently, the island started to attract more remote workers, youngdynamic startupsand companies, seeking a retreat from the rush of a city. No wonder, when the island offers great infrastructure, cheap and reliable flight connection from European metropolis and same time zone as London. Together with low taxes, European quality of services and 350 sunny days a year, makes the island an ideal destination for both short term and long term stays.
What we value most about this island is the natural diversity. At relatively small area it has a tremendous amount of microclimates and ecosystems. Steep volcanic cliffs, deep ravines that rarely allow sun rays in, dense pine forests, impenetrable jungles, arid deserts or majestic volcano. All of that spread over just 2.000km2.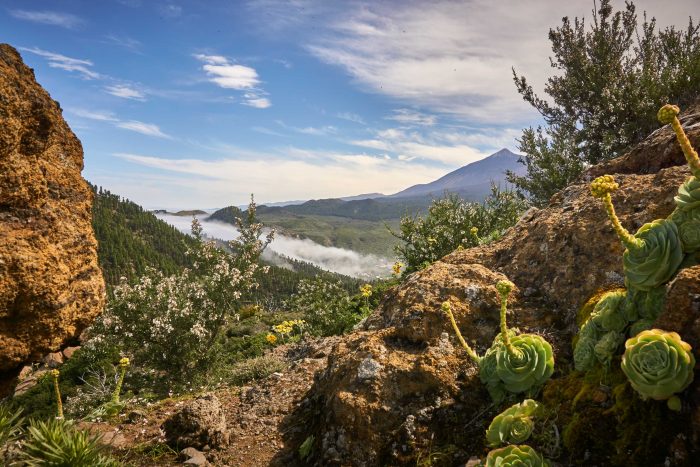 HOW TO GET THERE?
It is quite simple to reach the Island. Direct low-cost flights to Tenerife South Airport from London, Berlin, Barcelona or other EU capitals start at only 55€ per return flight. Moving between Canary islands is relatively easy and often it is cheaper for a non-resident to move within them by plane than by ferry. We suggest you to start the research of flights on Kiwi.com, where we always find the best deals and free cancellation guarantee, in case the plans change last minute.
FLYING TO TENERIFE
There are direct flights to the biggest airport — Tenerife Sur (situated only 34 mins. from Los Gigantes) from the most of EU Capitals including Paris, Vienna, Copenhagen, Oslo, Prague, Budapest, Dublin, Amsterdam, Madrid, Zurich, Berlin, Stockholm and many more. According to the FlightMapper, there are 132 direct / non-direct destinations from Tenerife (118 from south Tenerife airport)!
All budget airlines fly into Tenerife South airport. Transfers to the south/south-west coast take 15-30 minutes and to Los Gigantes 34 minutes. Transfers to Puerto de la Cruz take 50 minutes to an hour (343 bus hourly). The 111 bus to Los Cristianos and Playa de Las Americas leaves every half hour. Bus to Los Gigantes every one hour. Costs of flights range from 10€ (*one way by Thomson from London) to 80€ per person. Return tickets for a team of 10 persons could cost in a range of 300-800€, if booked at least 2 months in advance.
MOVING AROUND THE ISLAND
Transport infrastructure at the island is rather good, making it possible to get almost everywhere by bus. If you need to change the buses you might wait for quite a long time at the bus stop. On small bus stops the bus stops at sign so make sure that the driver notices you waiting. If you intend to use buses more often, we recommend you to get the Bono ticket that you can buy on main bus stations. It is prepaid with 15 or 25€ and you can save about 30 percent of costs if you use it. If the balance is not high enough, you can pay the rest with cash and still get the discount.
The most efficient way and the usually recommended way to move around the island is by renting a car. People are driving quite responsibly here and you do not have to be afraid, even if you are a less experienced driver. Roads can be quite steep and narrow here, there are many hairpin roads at Masca or Anaga though. There are several rent-a-car companies on the island (GoldCar, Plus Car, Inter Rent…), but for a car rental we recommend following companies – Autoreisen and Cicar. If you book the car at least 10 days upfront at Autoreisen, you can get it for as low as 12€/day including an insurance.
WHERE TO STAY IN TENERIFE..
Prices for accommodation depend heavily on location and the season. Northern part of the island – Puerto de la Cruz / La Laguna / Santa Cruz area is more local, but not necessarily cheaper. The southern part is little more touristy and can be also expensive at the busiest locations. When looking for a place to stay, the cost shouldn't be the only decision maker though. We suggest to do some research and read reviews before booking. Few of the ways to find accommodation are Booking or Airbnb, where you can book a room for as low as 40€/night. For a longer term rents you can use idealista.com, where you can find a small apartment from around 500-600€/month. You will usually have to sign for at least 3 months and pay a deposit of one month, payment upfront. Prices are usually negotiable, so give it a try!
Both north and south of the island are friendly for remote working professionals, digital nomads and expats. There is a welcoming community in Puerto de la Cruz on the north of the Island, built around our friends from Coworking In The Sun. On the south, near the magnificent Los Gigantes area, stands our coliving villa for groups and teams – Wolfhouse®. Located on the southern west coast of the island, little remote from the rush of tourists, offering a place for relaxed stay and productive work in the office space, but at the same time having all the services, shops, pubs and beach less than 5-7 minutes far away. Since opening new road via Alcalá, ride from the Wolfhouse® to hubs like Playa De las Americas or Adeje takes less than 30 minutes.
The city of La Laguna near Santa Cruz is also a place worth to note and visit. Third biggest city is well known for Universidad de La Laguna and many young people and students hanging out. Various international and couch surfing meet-ups are happening around there and Santa Cruz, where you can meet some locals.
The busiest part of the island is with no doubts Los Cristianos, which is a little bit more expensive and touristy. On other side has to offer few of the best beach breaks for surfing. Are you in love with kitesurfing? El Médano has a great vibe and community of wind & wave lovers. The Island really has to offer something to everyone.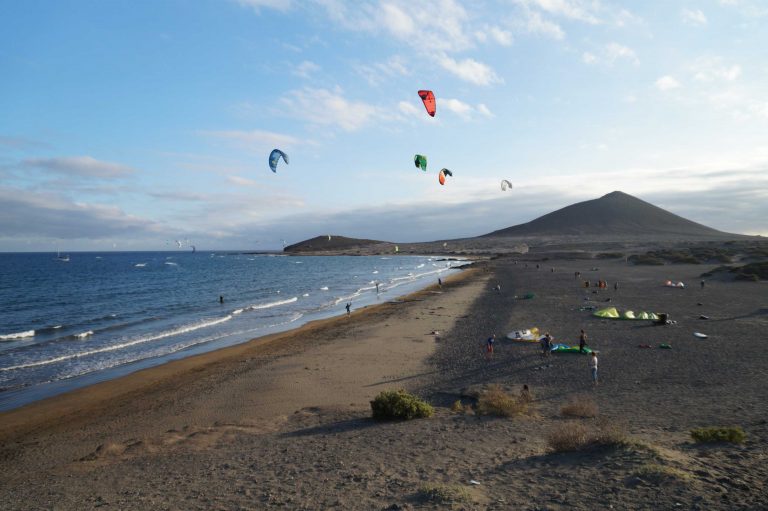 FOOD IS GOOD!
The typical local cuisine offers traditional dishes of meat, fishes and other seafood always accompanied by the typical Canarian sauces the "mojos", which they have two main variations: the red (usually spicy) and the green (milder or non-spicy). A big portion of fries topped up with ham and cheese "papas locas" is a typical local calorie bomb. At local cafes, you can eat as cheaply as 2-3€ for a small meal. Restaurants start at about 6-12€ depending on location and category.
Definitely do not pass on typical Spanish breakfast called "churros" with "chocolate" – fried pastry with hot chocolate. Corn flat-bread called "arepas" with many different fillings are also a treat. Even though they originate in Southern America, they have quite a long tradition here as well. The best arepas we know of can be found at Arepera Punto Criollo at La Laguna.
Very interesting culinary attractions are "guachinches". Those are small, often unlicensed, unofficial restaurants that are usually open traditionally on the 30th of November, at the end of the harvesting season. They offer locally produced wine with a local meat or seafood dish. You should not miss the African market at Santa Cruz and try some tapas, sushi or other different delicates there as well!
Prices at grocery stores are usually same or slightly lower than in rest of the Europe. Fruits are usually cheaper while dairy products or other imported products are more expensive. Store chains like Mercadona and Lidl are present on the island and offer a good balance between price and quality. The best fruits and vegetables can be found in local "fruterias".
BEST TIME FOR A VISIT?
The weather at Tenerife is quite stable. It is not called the island of eternal spring for nothing. The biggest difference in temperatures is naturally during the nights, but you will rarely need a warm jacket. Days are usually nice and warm all-year-round. The island has on average 340 sunny days a year with Los Gigantes having on average the highest amount of sunshine per year. The best time for swimming is August/September, with ocean having 24°C. At march the temperature drops to 20°C.
We personally believe, that there is not a 'best time for a visit', as the climate is nice whole year and every season has to offer something else. Spring is great, as the whole island is mostly green and full of blooming flowers. One of them is "Tajinaste Rojo" which blooms at the end of a spring and grows up to 3m high. Photographers from all around the world are coming to the island to capture such moments.
Tenerife is notoriously topping the lists of the sunniest places in Europe. Los Gigantes, where the Wolfhouse® is situated, has been awarded as the area with the highest amount of sunshine per year on the whole island. The mountains behind the venue are furthermore helping to prevent the most of rainfall and clouds coming from the east, south.. all in the result putting the Wolfhouse® on one of the sunniest spots in Europe.
WHAT ABOUT REMOTE WORKERS?
As remotely working professionals we can hardly function properly without the internet. Nothing makes our brain as desperate as 0,5Mbps internet upload speeds. Many cafes on Tenerife have unfortunately such speeds (5Mbps/1Mbps). Having a Wi-fi badge on a storefront it is clearly sufficient for them. Many of them have fine internet as well, since fibre optics is available on the island at more locations. We recommend you to get some speed test app and do some research in your neighborhoods. You can also take a look at our #RemoteFriendly project, where we reviewed and awarded a bunch of places on the island. The fastest connection you will usually find in coworking spaces and coliving like Wolfhouse®.
There are stable 3G and 4G signals on the island, except for a few remote areas where you can get data SIM card for a very reasonable price. Lyca mobile offers prepaid cards with 3GB and international calls for about 15€. Similar price is in Vodafone for 1GB + 20 minutes local calls. Everyone, including local businesses, use Whatsapp usually and standard texting became long forgotten here.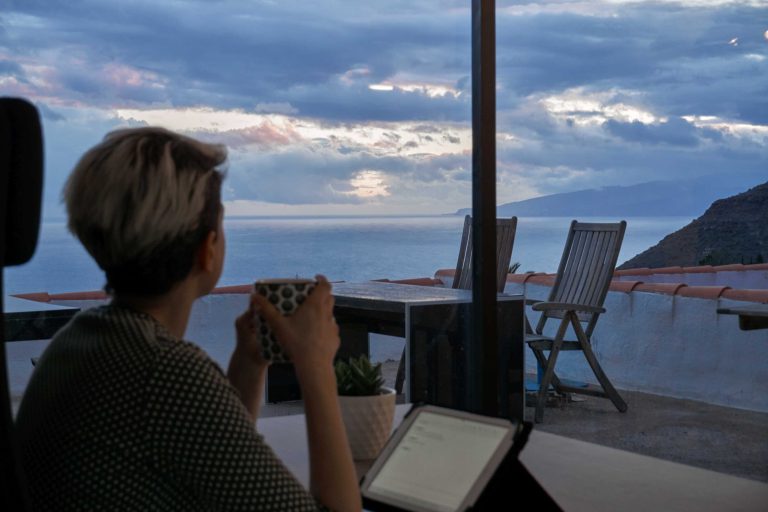 ORA ET LABORA – PRAY AND WORK!
You can work from your apartment, #RemoteFriendly cafes, coworking space or even libraries and each option has its advantages and disadvantages. Many of the Airbnb apartments has wifi included but you will hardy meet other nomads working from your bedroom. There are Cafes on every corner, Agora and FU Cafe in Puerto de la Cruz or Cafe Siete in La Laguna often organise various meet-ups so it is a good place to socialise or practise your Spanish.
The place we recommend the most is, of course, our coliving villa – Wolfhouse®. We are offering accommodation in private double room apartments with work space in the shared office with magnificent ocean views, starting at 45€/person/day. The venue is located in the epicentre of Canarian nature, right next to famous Los Gigantes cliffs. The Puerto de Santiago town is nearby with all sorts of amenities and services. You can get to the beach in just 5 mins by car or 15 mins by bike. For a greater mobility, we recommend to rent the car so you can explore the island more easily. Buses go about 5 times a day and the closest bus stop is 2 minutes from the house. We are confident, that the area is the best you can find, if you are looking to balance work and relax. For more information about availability, send us a request.
If you decide rather work from a cafe or your home, we definitely recommend attending some of the events organised by coworking spaces or the Remote Workers community on the island – find current events. Other initiatives like DNEXP or Nomad Islands are promoting and organising events for digital nomads on Canarian Islands and collaborating with La Laguna University to create an awareness for the students about the remote workers community. You can always find the most up to date information in Facebook groups like Remote Workers or Tenerife Digital Nomads, or try searching for #ColivingTenerife.
WELL DESERVED REST
There are numerous options to recharge after work day on Tenerife. If you prefer to rest at the beach, we recommend you to visit the famous kitesurfing beach El Médano with adjacent Montaña Roja (171m) hill. The hill is beautiful for a short sunset hike and you can also visit La Tejita beach right next to it. After the sunset, you will hardly find a better spot to enjoy the nightlife than Playas Américas in Los Cristianos. During the weekend you can also have quite a lot of fun in La Laguna or Puerto de la Cruz clubs as well. Las Teresitas, Fañabé or Playa Jardín are great beaches to visit as well.
In case you prefer a more active recreation, Anaga natural park offers a lot of beautiful hikes (Faro Anaga, Cruz del Carmen etc.) and bathing or diving in one of the countless isolated creeks that are accessible by foot only. Teno natural park which is right next to Wolfhouse® offers very similar opportunities with the famous Masca or Teno lighthouse hike. Down from the Masca hike you can take a boat taxi (10-12€/person) to Los Gigantes to appreciate the stunning view of the cliffs.
You shouldn't miss the visit of the highest peak of Spain, Teide volcano (3.718m). To get up there easily try cable car (13,5€/person/one way). To reach the summit located 200 vertical meters above the top station of the cable car you will need a permit. You can book it online here but they are usually booked for about two months upfront. For those who do not fancy cable cars, it is possible to hike all the way from Cañadas valley with an overnight stay in Altavista Refugio (20-25€/person) for altitude acclimatisation. From the refugio, you can hike the remaining 450 vertical meters to the summit before the sunrise and enjoy the stunning sunrise from the Islands rooftop. To get to the summit before 9am you don't need a permit, since there is no one to check it!
FORGET ABOUT THE STRESS
No one is in rush in Tenerife and you should not be either! Keep in mind that on Sundays and in the afternoon (1pm to 4pm) many services and stores are closed. Nevertheless, in touristic areas, you can find many open businesses during the whole day.
Tenerife is definitely an Island of contrasts and whether you are looking for a calm, chilled out place for work, relaxation, nightlife or outdoor adventures, this marvellous and diverse subtropical island got you covered!