Every epic team retreat needs activities and a detailed itinerary to make it go smoothly and have a fantastic time. And we were thinking—how to make it easier than before?
And since we are in the business of making things easier for you, here are two brand new features you can experience while organising team retreats in the NextRetreat app:
Activities – browse many activities from 3rd party providers and shortlist preferred ones
Itinerary – build your day-to-day itinerary
Let's dive in!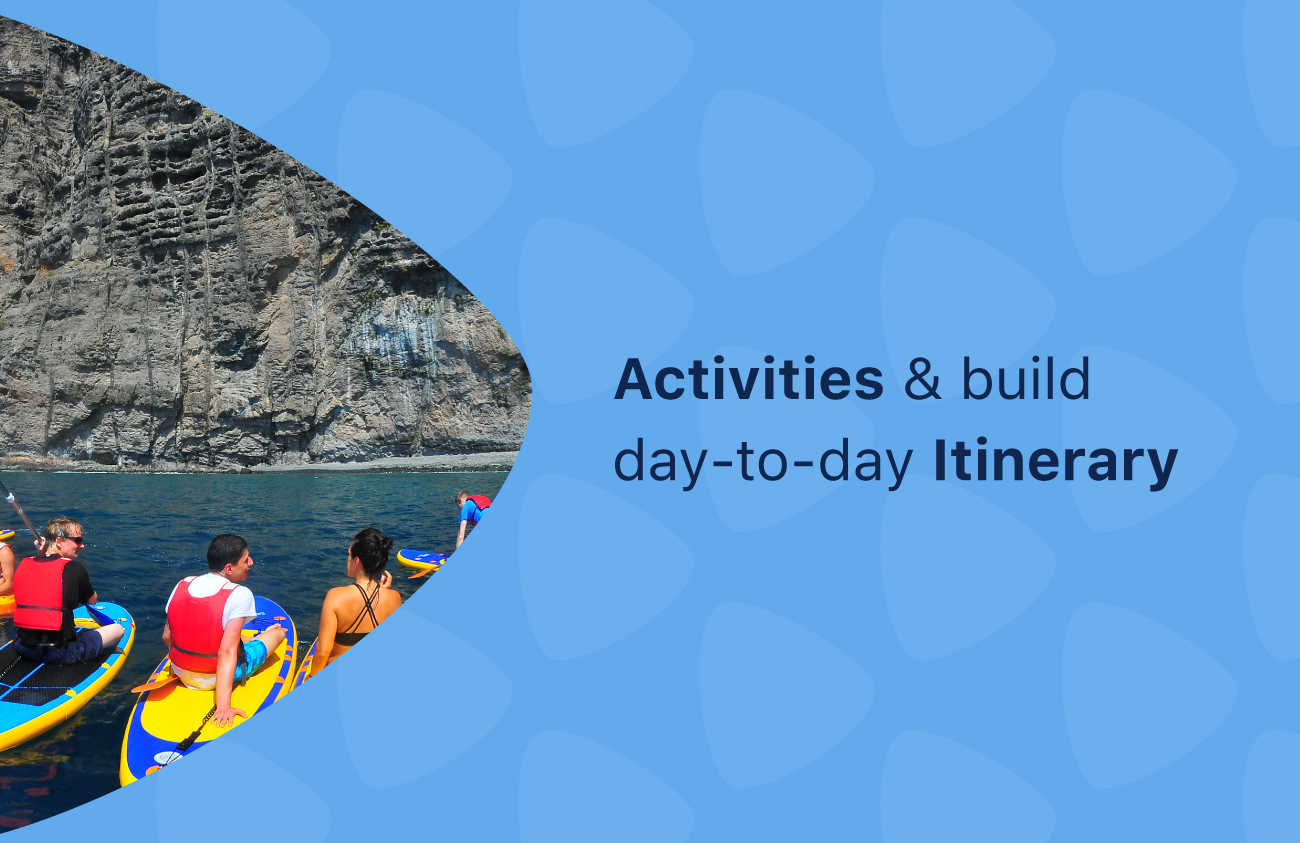 1. Activities, here we come! Browse & shortlist what your heart desires
So you've found the perfect venue for your next team retreat, excellent. But how about adding some exciting activities you can enjoy with your team? Organising a team retreat on your own now would be the time to start looking for various sites and local guides—another step to waste your time and resources.
That's why we added a sizeable inventory of reliable partners and activities—all within the app with just a few clicks away. Click Browse, check out what you and your team would like and shortlist the best activities, open their details and book it on a partner's site or shortlist it.
If nothing catches your eye, you can always add links to activities GetYourGuide or any other website. If you paste a link from GetYourGuide, everything pre-loads automatically, and if you do it manually, you must add details yourself.
Quick tip: Before browsing and shortlisting Activities, you must choose a venue. Read our older blog on shortlisting Venues.
Here's a quick demonstration from my colleague Inna:

Pretty simple. Now you create a new Poll to let your teammates decide on the best of the best.
Quick tip: discover the Polls feature from our previous blog post. Its the best next thing you can use after shortlisting activities.
2. Building your Itinerary, one step at a time
Now is the time to build your day-to-day agenda.
The NextRetreat App will intuitively help you build a suitable itinerary. Start by adding a date range to pre-list all the days you need to plan. Now you add the location of events and entries through the Ideas above the list of dates. Finally, a detailed card of an event pops out, and you can fill in various details like place, address, and how long the event will take (did anyone say all-day long surfing, what?!), or you can attach tickets or anything like that.
One by one, eventually, you will build a sleek day-to-day Itinerary for your whole trip that you can share with your team mates, and get some likes on Slack ;). No tricks. It really is this simple.
As always, we have a quick walkthrough video ready where my colleague Inna goes through the process in under two minutes.
Returning to the beginning, what is the best part of organising a team retreat for you? If you can't think of anything besides enjoying the trip with your team, what might be the snag is wasting time, money and bits of your soul organising old school.
Don't hesitate to try the NextRetreat App, now with a three-month-long trial. I promise you that if you commit to it, it will save you a lot of time. And if you don't have time at all, our Retreat specialist team can help you organise your next team trip. Read more about it via the button below.