1. THE WEATHER
Now bear with me here, I know that every single article about the Canary Islands mentions just how perfect the weather is, so I'm assuming you realise by now that it's basically always summer. What you may not know is that it isn't necessarily always true.
Tenerife has 7 different 'micro-climates', with different amounts of clouds, wind, and sometimes even rain. The utter perfection lies in the fact that all these seven climates lie within a maximum of two hours' drive away from each other.
Imagine waking up to a cloudy sky and moderate temperatures (perfect to work in) and deciding you'd much rather chill on the beach for a day? Take the car out and drive for about an hour and there you go. Sun, sea, beach. Prefer to go wind-surfing? Just a little closer by you'll find the waves.
2. OUTDOOR ACTIVITIES
To continue on that thought of the windsurfing … there's an endless amount of outdoor activities to do. The fun thing about having seven different micro-climates is that there's so much to explore and so much diversity.
Hiking can be done all over the island. From a rainforest in Anaga to the rocky cliffs of Masca, it's all breathtaking and definitely worth a visit. If you prefer to go on wheels, there are bicycles for rent all over the island and there's tours that will take you to see all the most beautiful places.
The people on Tenerife are generally an active bunch. Who wouldn't be if you could always go outside for your entertainment? You'll find surf schools, tennis courts, football fields, bike paths, and hiking trails everywhere.
The volcano at the centre of the island is surrounded by a natural park where you can climb to your hearts content. If you get the chance I would highly recommend climbing to the top of the volcano. You can do it in two days and seeing the sun rise from the top of the mountain on the second day is an unforgettable experience.
3. COLIVING AND COWORKING SPACES
Coworking spaces are popping up left, right, and centre. You can choose one wherever you want to be. Fancy a place in a town that will also offer you a coliving space?
Check out coworking in Puerto de la Cruz. Would you prefer staying in a gorgeous villa with coworking space, overlooking the bay of Los Gigantes and spend time floating in your own private pool? In the capital of Santa Cruz there are few coworking spaces to choose from, but you'll have to take care of your own housing.
Meetups happen in several places around the island, once a month there is the 'meet a digital nomad' meetup in Puerto de la Cruz, where Frank and his team invite a different person to speak or give workshops every time. They're always filled with interesting people and equally interesting insights. On the south of the island, there are Remote Workers meetups. Whenever there's anything interesting going on around the island it's posted in the Facebook groups, so you never have to miss a thing.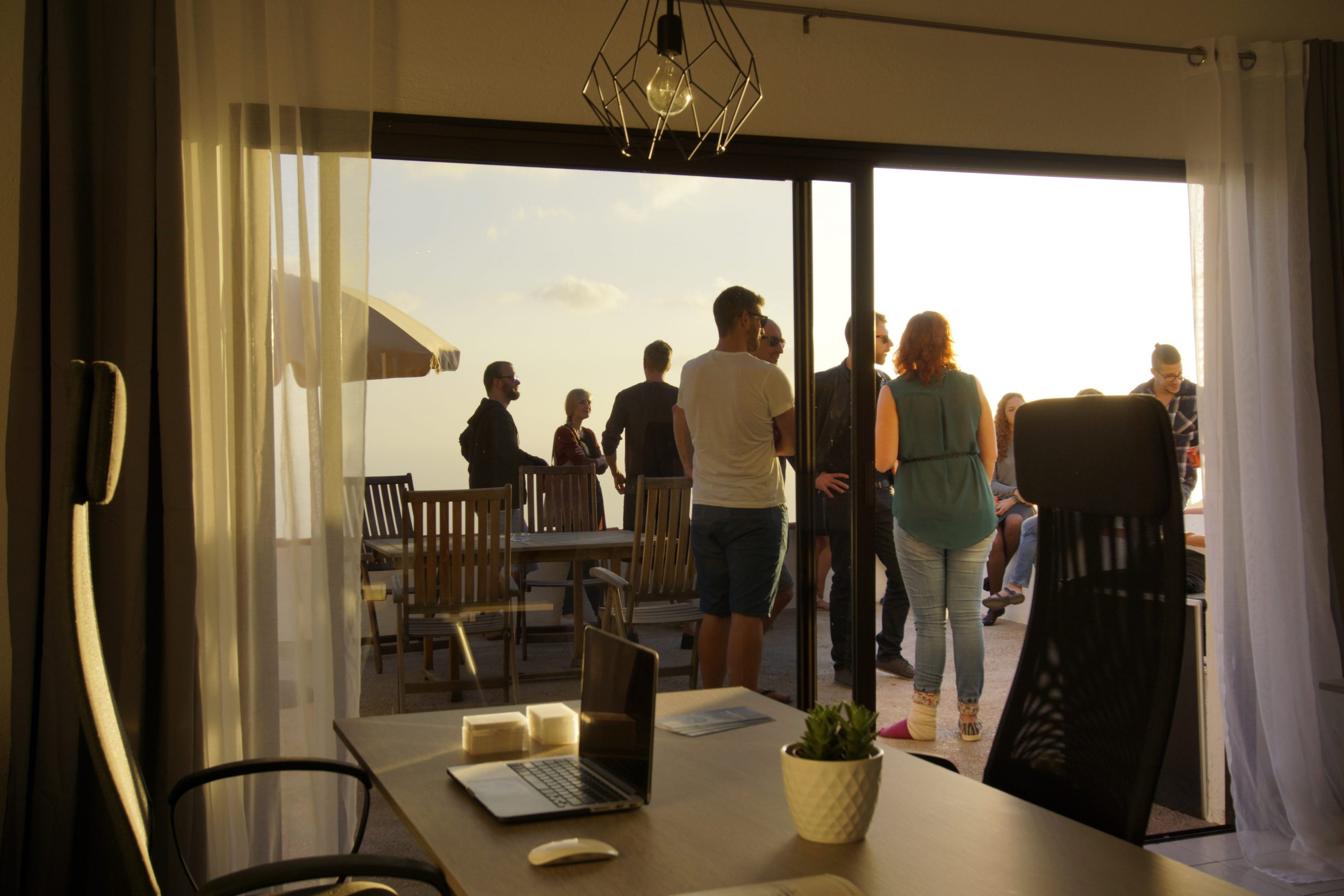 4. LOCATION
The Canary Islands are ideally situated to fly into from Europe, or Africa. There are regular airplane routes going to the island from anywhere in Europe, mostly by the cheaper airlines, making it easy and cheap to get there. There is also a ferry boat that goes from the south of Spain, but it takes two days.
There is only one hour of time difference between mainland Europe and the Islands, and no time difference with the United Kingdom. Meaning that if your clients are situated anywhere in Europe you will be able to communicate with them with ease from you chair on your balcony in the sun.
5. FOOD
I think of myself as somewhat of a foodie and the Canary Islands may not seem the most obvious place for me to go. I thought so too, until I discovered the traditional Canarian food.
One of the first things you will get are 'papas arrugadas'. Potatoes cooked in sea water, making them delightfully salty. Cover them in red or green mojo and you have yourself a treat. Other dishes include chickpea and lentil stews cooked over days with bits of super tender meat in them. Chorizo is used in all kinds of interesting ways, like taking it out of the casing and spreading it over fries with an egg on top.
Guachinches are the epitome of traditional Canarian food. They're little restaurants basically in people's garages, kitchens or gardens, and they sell traditional Canarian dishes. There was one we went to where they served us pulled pork that had been on the barbecue for three days, fries, bread, homemade wine, and water for just under 10 euros per person. No kidding.
However, I have also had some of the best Italian food and seafood I've ever had on this Island. Agua y Sal in San Miguel de Tajao is amazing, you pick the fish you want to eat right out of the cooler. There's a little restaurant in Santa Cruz called Tasca de la Mar el Mero that has all of two tables and a bar, and no menu. The food is some of the best on the island though.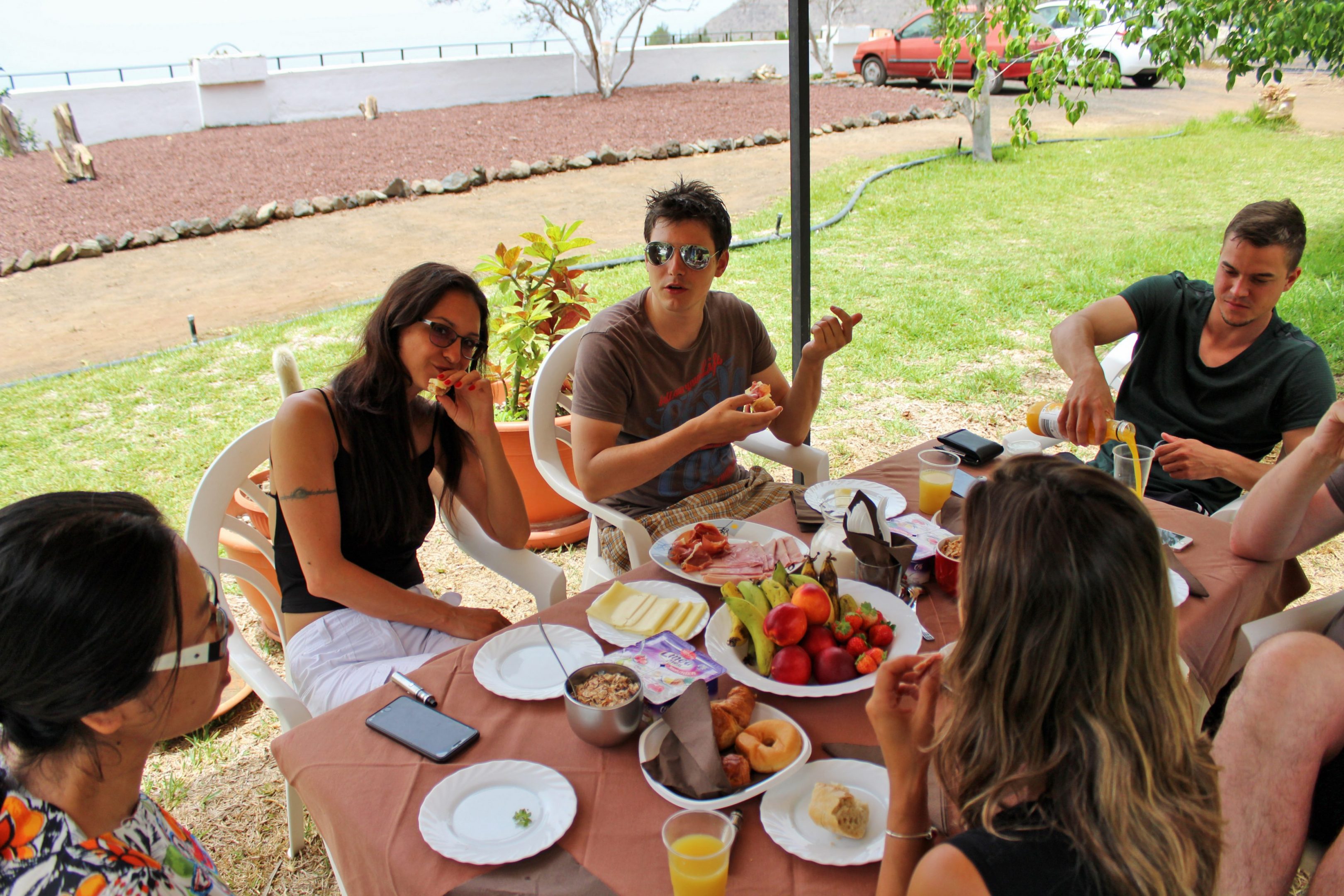 6. COST OF LIVING
Depending on where you are on the island, rent is quite affordable. Coffee is never more than 1,50 for a cup, and groceries are generally very reasonable. The only thing to look out for is the stuff that needs to be imported from the mainland.
Being a hipster vegan foodie is not really doable on the island, as coconut oil, soy products etc. have to be imported and are thus insanely expensive. Stuff like tomatoes and bananas and other locally grown produce is super cheap though.
Find a Mercado agricultural close to where you're staying for super fresh produce straight from the farmers. The Mercado in Santa Cruz has spices from Africa and is worth a visit just because of the architecture and the colourful hustle and bustle inside.
7. LOCAL VIBES
Whenever I speak to anyone about Tenerife, they ask me 'but didn't the tourists drive you crazy'. In fact they did not. If you scratch the surface of drinking tourists lounging on beaches you'll actually find that the Canary Islands have a very rich culture. It's a really interesting mix of Spanish and indigenous cultures.
The Canarian people are super friendly (if you speak a little Spanish) and very proud of their traditions. One of the things I've noticed the most is that the culture is respected by young and old. Where in other European countries you see the young people moving more and more away from tradition, on Tenerife you will see traditional parties attended mostly by the younger generations. They're great fun and I highly recommend getting yourself invited to one.