When it comes to organizing a memorable team trip, the excitement often comes hand in hand with the challenge of meticulous planning. But worry not, as NextRetreat has a duo of useful and free tools ready to transform your planning process. In a mere 5 minutes, you can unlock venue suggestions and budget estimates that will set your team trip planning on a smooth and successful course.
Navigating Finances with the Budget Estimator
Finances often pose as a complicated puzzle, yet fear not, for NextRetreat's Budget Estimator is here to decode it. Here's how you can quickly gauge a ballpark figure for your company retreat, team offsite, or in-person meetup of your remote team in just 2 minutes! ⏱️
To begin, open the Budget Estimator tool.
Enter the number of people on your team. If you're unsure yet how many will be traveling, enter the maximum team size.
Determine how many nights you'll stay.
Estimate the cost of flights per person. As a rule of thumb, consider at least €500 for intracontinental flights and €1000 for flights between different continents. flights.
Define the purpose of your trip. Is it primarily business, or a blend of work and leisure?
Choose the items you'd like to include or exclude in your budget estimate, such as on-site transportation, food & beverages, or activities. If you'd rather not share any rooms, you can select 'Only single rooms,' but be aware that this option can be more expensive.
Now, you have your rough budget estimate on the right side. 🙋 Use it as a preliminary guide for your budgeting, but keep in mind that prices may vary depending on the destination, season, and other factors.
Do you want to fine-tune your budget and get a detailed proposal? Talk to our Retreat specialist. They have a lot of experience with planning team trips and can help you make the best decisions for your trip.
Getting some Venue Ideas with Team Trip Builder
Now that your budget is in check, it's time to design the perfect expedition. Our app is equipped with an advanced algorithm that suggests some venues tailored to your unique requirements and preferences – all in just 3 minutes! ⏱️
🌈🔮 It's not magic; it's the future of team travel planning! The NextRetreat Trip Builder employs cutting-edge technology to recommend venues that you and your team may like.
Here's how to master it:
For this part you need be a registered user of NextRetreat app. Don't worry, the first month is on us! Sign up here.
Visit "My Trips" and click on the + Create a Trip button at the top right.
Specify the number of team members joining your trip, your budget per person (thanks to our trusty Budget Estimator 😉), and the dates for your team's adventure.
Choose your destination – either share your heart's desire or leave it to the magic of surprise.
Get creative with naming your trip! 🎨
Release your wishes into the digital realm and let the algorithm work its enchantment.

Voilá! You'll receive a list of 5 to 8 exceptional venues.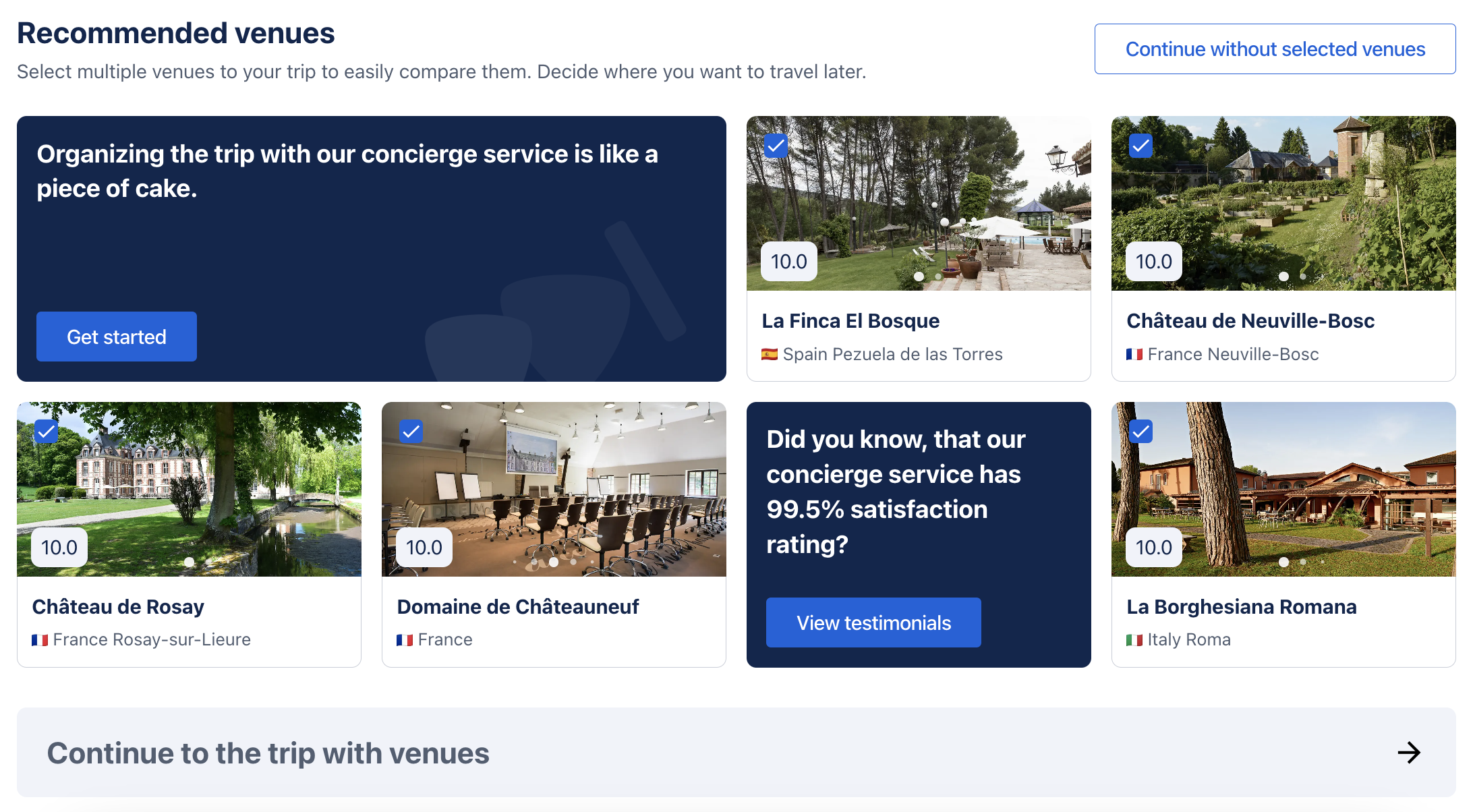 If you're satisfied with the results, you can proceed to plan your trip with the recommended venues. Alternatively, if you'd like to explore other options, feel free to start the process again and adjust your inputs, or you can opt for a more traditional Venue Search. The Trip Builder not only saves you time but also adds a touch of magic to your planning process.
In conclusion, NextRetreat's Budget Estimator and Trip Builder tools are your secret ingredients for initiating the planning of an extraordinary team trip. In just a few quick minutes, you'll have a preliminary budget estimate and a list of venues, laying the foundation for an unforgettable journey. Bon voyage! 🌴☀️👩‍💻