Are you looking to organise an exciting and refreshing team retreat in 2022? Finally, things are getting back to normal, and travel is back on the agenda. There's no better time to whisk your staff away to a fantastic location and enjoy some much-needed team building and creativity away from it all.
Why is team traveling so important?
Remote working has become the norm for many businesses, but even the best remote teams perform at their peak when they come together. A regular office environment isn't the most thrilling of locations to get the creative juices flowing, which is where a team traveling retreat comes in!
Throw a desirable location into the mix alongside team-friendly accommodation, and you've got yourself a recipe for success. The benefits are two-fold:

Strengthen bonds
Boost productivity
Increase efficiency
Raise team spirit
Build relationships
Improve communication
How to choose team traveling locations?
One of the first stages of planning your team traveling trip is the exciting task of picking out the location. But this decision needs a bit of thought, including:

Weather
Cost
Accommodation
Workspace
Transport

Find out more about planning a team retreat with the wow factor in our blog: 5 Tips For An Amazing Team Retreat.
The five best team traveling locations in 2022
1) Gran Canaria, Spain
Accessible, plenty to do and blessed with a subtropical climate, it's easy to see why Gran Canaria is a top destination for team traveling retreats:
Easy to reach: Gran Canaria is accessible with direct flights from major capitals. No matter where your team is based, it should be simple to reach this lively resort.
Budget variety welcome: With a host of accommodation to choose from and activities aplenty, varying budgets are welcome.
Soak up the sunshine: You can expect warm temperatures all year – if a retreat in subtropical weather suits your team, this is the ideal place.
Team-bonding activities: Whether it's thrill-seeking windsurfing, a walking tour with the perfect backdrop, golf on an award-winning green or something more relaxing like yoga, you'll be spoilt for choice.
2) Lisbon, Portugal
With colourful streets to explore and some of the best city spots for sightseeing, Lisbon deserves a place on your team traveling location list.
Dive into culture: Between authentic eateries, awe-inspiring street art, historic buildings and live music on every corner, it's easy to up your team's spirit with the city's vibrant culture. .
Let's talk about food: Why not sign up to a cooking workshop as part of your team-building activities? Drool-worthy seafood, brewery tours everywhere and as many famous pastel de natas as you can manage, you won't be stuck for places to eat.
Take your activity pick: Walkable everywhere, Lisbon offers inspiring team activities. From e-bike tours to sunset sailing and sightseeing across the city, this is an ideal place to keep your team entertained and engaged.
Affordable: This city has it all – cheaper stays as well as luxurious accommodation in the city centre. As the gateway to Portugal, it's also easy to reach from afar with an international airport nearby.
3) Berlin, Germany
Germany's iconic capital offers a diverse range of unique and exciting team-building activities. There's no wonder this has become one of the most popular locations in Europe.
Things to do: Berlin has something to offer everyone. It doesn't matter if you're a nature lover, a thrill-seeker or a museum enthusiast, this location can provide an ideal trip for your team.
All-weather activities: Some would argue there's no better place to be than Germany's bustling capital for activities and unforgettable experiences throughout every season.
Relatively cheap: One of the cheaper capital cities to enjoy in Western Europe, Berlin is brilliant for budget-minded travellers seeking world-class museums, exciting experiences, affordable accommodation and cheap food.
Easy to reach: Accessible by Berlin's own airport, it's also easy to get around once you're there, thanks to trams and buses reaching every corner of the city.
4) Amsterdam, Netherlands
Known for tulip fields, quaint windmills, cycling routes and flat canal landscapes, we couldn't miss Amsterdam off our location list!
Impressive sights to see: Between stunning architecture and iconic waterways, your eyes will never bore on a trip to Amsterdam.
Countless activities: Amsterdam has a universal appeal that brings in over 20 million visitors every year. There's nothing you can't do in this city, whether it's treasure hunts and escape style rooms or a team bike ride and a canal tour of the city.
Eat your way around the city: If there's one thing that brings people together it's good food. Food tours are offered all over Amsterdam and they're a great way to fill up your belly while immersing yourself in the city's rich environment side by side with your team.
Up the budget: It's worth noting Amsterdan is not the cheapest destination but there are plenty of different options when it comes to accommodation.
5) Barcelona, Spain
Relocate your team to Barcelona for a few days and enjoy this hub of art, museums, architecture and more!
International airport: Barcelona offers an international airport making it accessible from anywhere and one of the best all-round destinations for a hassle-free team retreat.
A foodie heaven: Explore the huge number of bars and restaurants spread throughout the city and don't miss out on the tapas!
Relax and unwind: If you're after a relaxing team break, Barcelona has what you need. You can hang out at Barceloneta Beach or have a mooch around one of the city's many museums.
Get creative: The perfect place to jumpstart that creative spark, Barcelona is also a bustling city brimming with things to do. Rent a bike and see the city on two wheels, buy tickets to a football match or simply enjoy the sights these streets have to offer.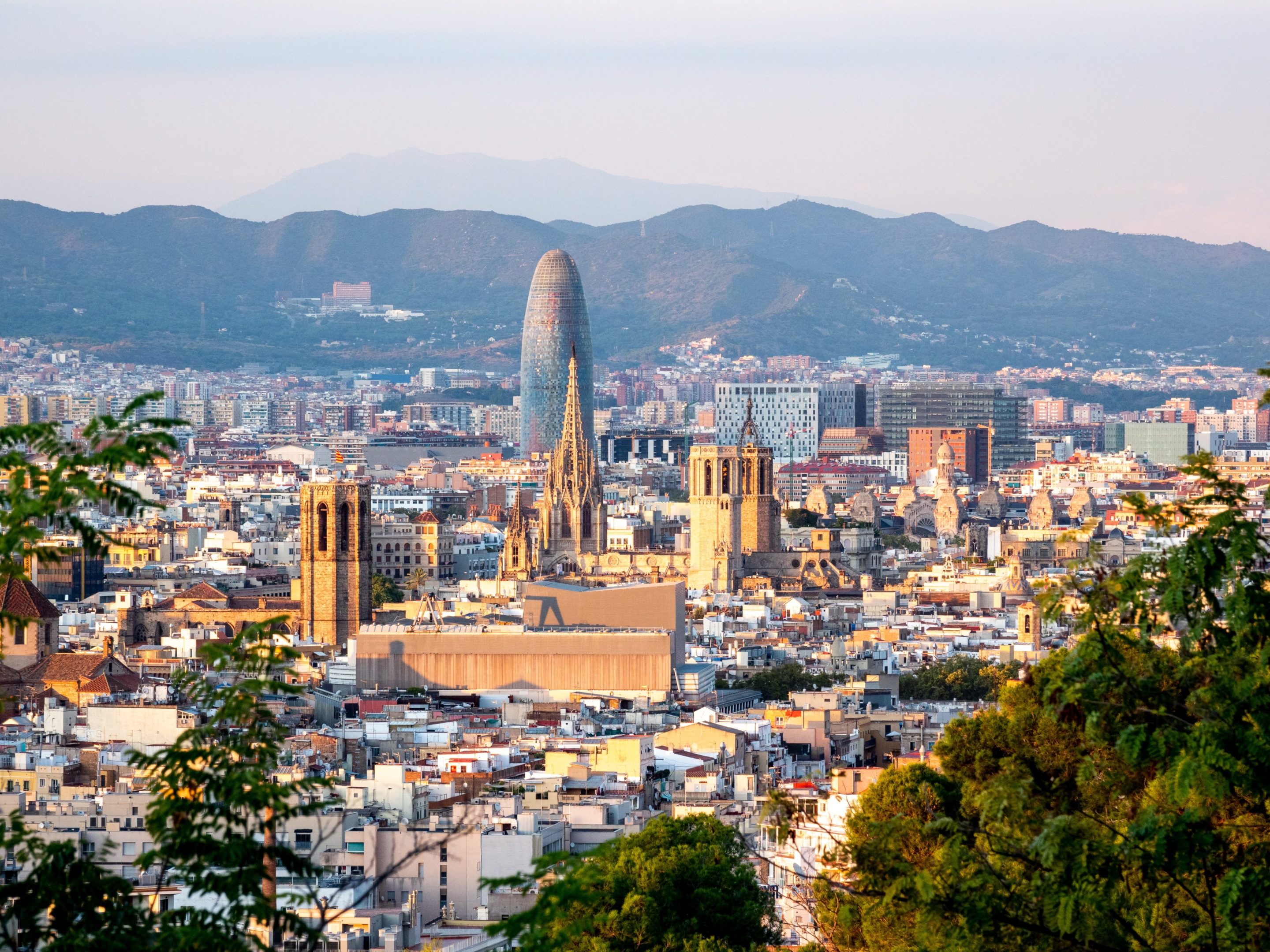 Plan your team trip with NextRetreat!
Organising a team retreat has never been an easy task and that's why we believe you shouldn't have to do it alone. Check out our solution for self-organisation or we can help you design a tailormade team retreat that's flexible, in budget and creates memories that will last your team a lifetime. The holiday begins now, get in touch to plan your team retreat!