Years of hands-on experience organising team travel let us detect the most common pain points of it. We hosted various teams with the most diverse requirements in different countries and found out that the most time-consuming parts for them were finding the right destination that would be suitable for every team member from any original location, finding a venue which would be big enough or finding one which would be exclusively theirs for the whole stay. In addition, choosing the right dates, on-site logistics or making sure you have not forgotten anything are often bone of contention.
With the help of the NextRetreat, you can save time organising any team trip (10+ team members) whether it's finding a big enough venue such as manors, castles, villas, a boutique hotel with a meeting space that suits all your needs or anything else causing you headache when planning a team retreat, offsite or in-person meetup. We may have just the right solution for that. 😉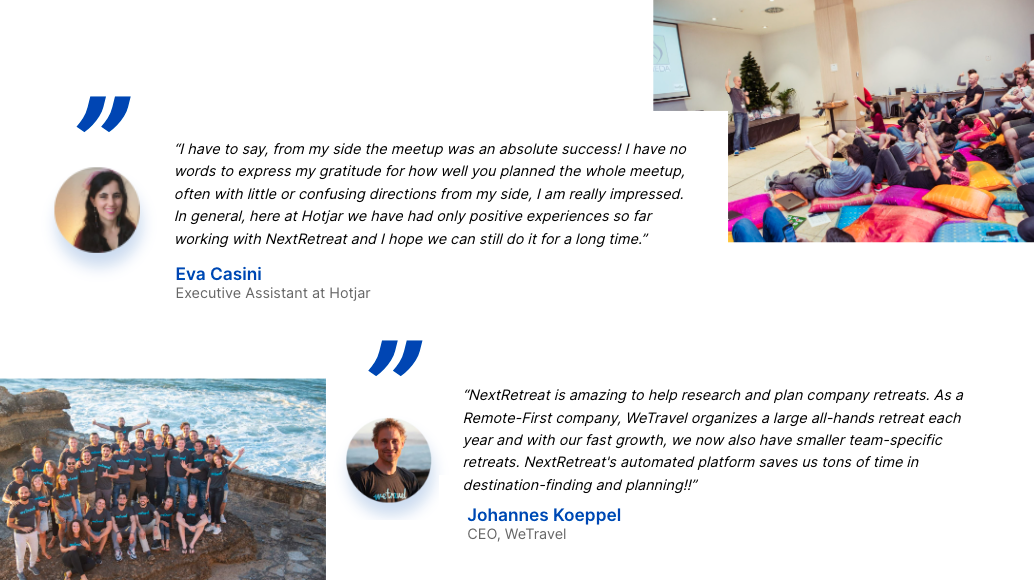 NextRetreat App
effective self-organisation, powerful support
The NextRetreat App is designed for teams and team travel organisers. Before NextRetreat, organising work trips, company outings or team building retreats involved hours of research and effort crawling Google and travel sites. NextRetreat App was created to overcome this challenge, combining everything you need to plan your trip in one easy to use solution. You can literally plan one simple team trip (finding a destination and a venue) in around 10-15 minutes.
To start using the App, you have to purchase a package.
There are two kinds of 2 kinds of App packages, with or without Concierge add-on. All packages are ideal for self-organising a team trip, include unlimited app access and a Retreat Specialist to assist you along the journey. The price is 89€ – 119€ / month, depending on the length of subscription. Is it worth saving hundreds of hours on planning? You be the judge.

After signing up and purchasing one of the packages you are set to go.
Where to meet
NR App gives you data to make an informed decision about where to meet. You can search for a destination directly (if you already have one in mind) or use the Destination Search Tool's algorithm to get recommendations.
Head to My Trips and name your new Trip. Then you'll be taken to planner's page and start with the page where you can input all the original locations of your team members (where they will travel from). Our algorithm then calculates and suggests the most suitable destinations so that all the team members can get to a particular location in the easiest way, either by a direct flight or with a max one stop. You can also filter the destinations by the region (Europe or North America), type (sunny, mountainous, city, foodie, nightlife…), etc.
Not sure when its the best to travel? Our innovative Sync Calendar allows you to see connections from multiple original locations to a destination and across different dates, all at the same time.
Where to stay
Having chosen the destination, you can start your research for the right accommodation and workspace. Besides filtering venues by the type of a property, you can set a budget, decide whether you need a meeting room, sort results by the distance from the airport, or tick a box to browse only through properties with higher suitability for teams.

Are you looking for a hotel that may be suitable for a full buyout? If you cannot fit all your team members into a villa or manor house, with NextRetreat App, you can search for hotels that have the right size (eg. 50 rooms for 25-50 team members) and request to book them exclusively for your team.
And much more…
If you like a venue, just 💙 it – this way, it gets saved to your Trip. You can share Your trip with your colleagues or ask the support any question about one venue or several ones simultaneously. Also, you can bulk request availability & much more.
Want to see it all? Schedule a short Demo call with one of our Retreat Specialists.
This solution is perfect for you when you want to:
get access to an effective tool that can save you time
get access to all our 108+ destinations and thousands of venues by yourself
organise several team trips, or you organise them regularly
choose and compare several locations with venues quickly, get feedback from your team
sometimes need a bit of help – our Retreat Specialist can assist you with research
need assistance with on-site logistics – when you get a venue booked, our Retreat Specialist can then help you organise airport transfer, meal options, activities, and other services
NextRetreat Concierge
a tailored made solution for team travel
NextRetreat Concierge is a personalised service for teams that don't have the time or human resources for self-organisation. By choosing Concierge service, you let us take care of legwork, starting with the destination and the venue research and ending with your agenda including some fun activities.

The process is simple and straightforward.
Purchase a Concierge package by paying the deposit. Then fill out our Concierge form, where we collect all the necessary info about your team's requirements and preferences. We will contact you via email or phone to clarify further details if needed. Then we do our research and prepare a personalised proposal for you, including destination and accommodation suggestions and other details tailored around your specific requirements. After that, you can provide feedback to your dedicated Retreat Specialist. We perfect the proposal and if you are happy, we proceed with the venue reservation.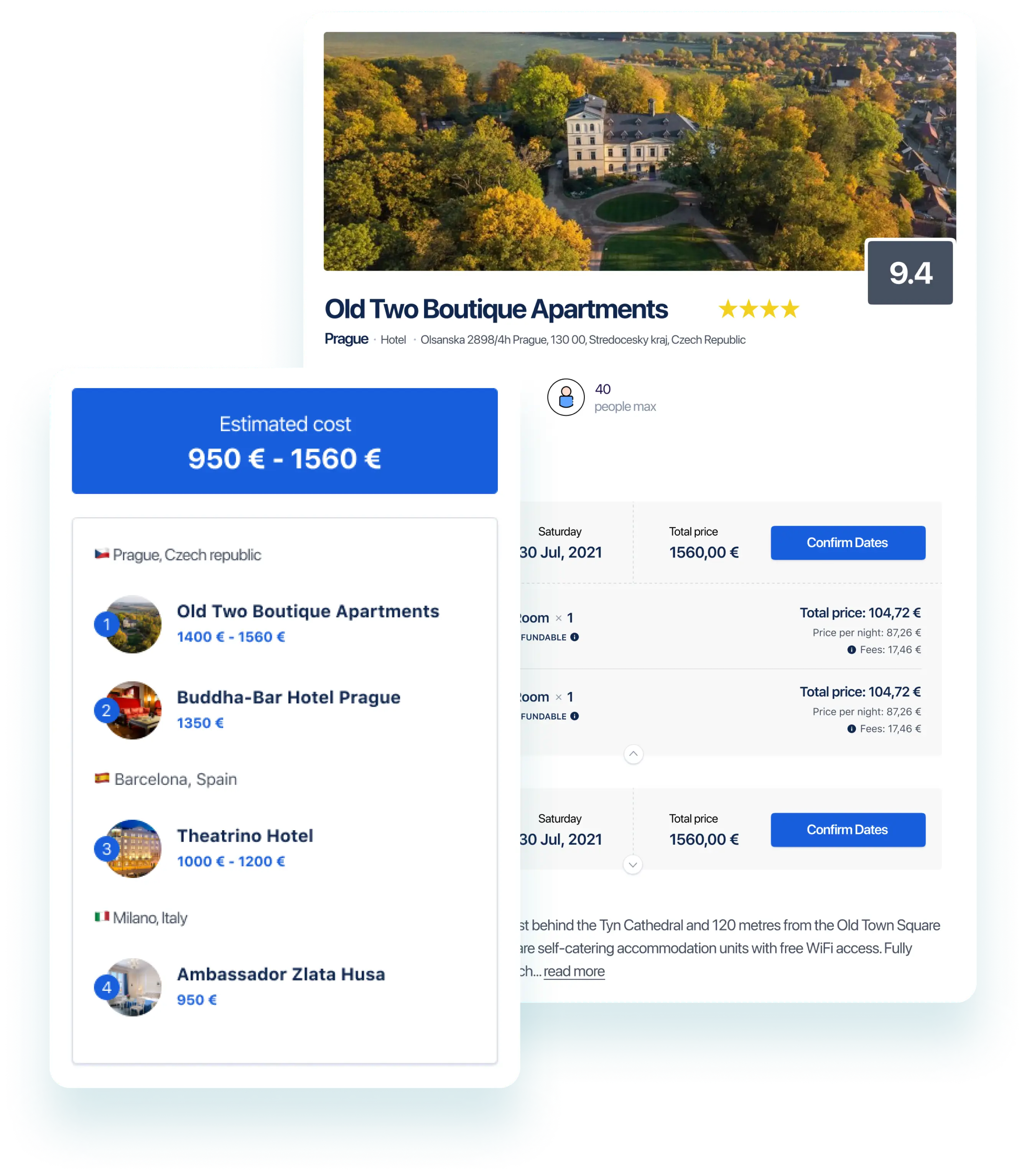 Having secured the accommodation and the meeting space, we start dealing with the logistics, meals, activities and other services, helping you build your itinerary. What remains for your team is to lean back, chill out and look forward to your trip!

This solution is perfect for you if:
you have a complicated request
you want to receive a completely custom proposal with specific venues and the approximate total cost calculation of your team trip
you don't want to spend time discovering our app and would prefer to outsource the majority of research & planning
you rely on our expertise and experience to find the best location for you and your team
NextRetreat Featured venues
hand-picked locations for team travel
Featured venues is a collection of some of the most suitable venues for teams.
Before purchasing an App or a Concierge package, sometimes you just want to get an idea of what kind of accommodation options NextRetreat has in its inventory. Well, here is a small preview.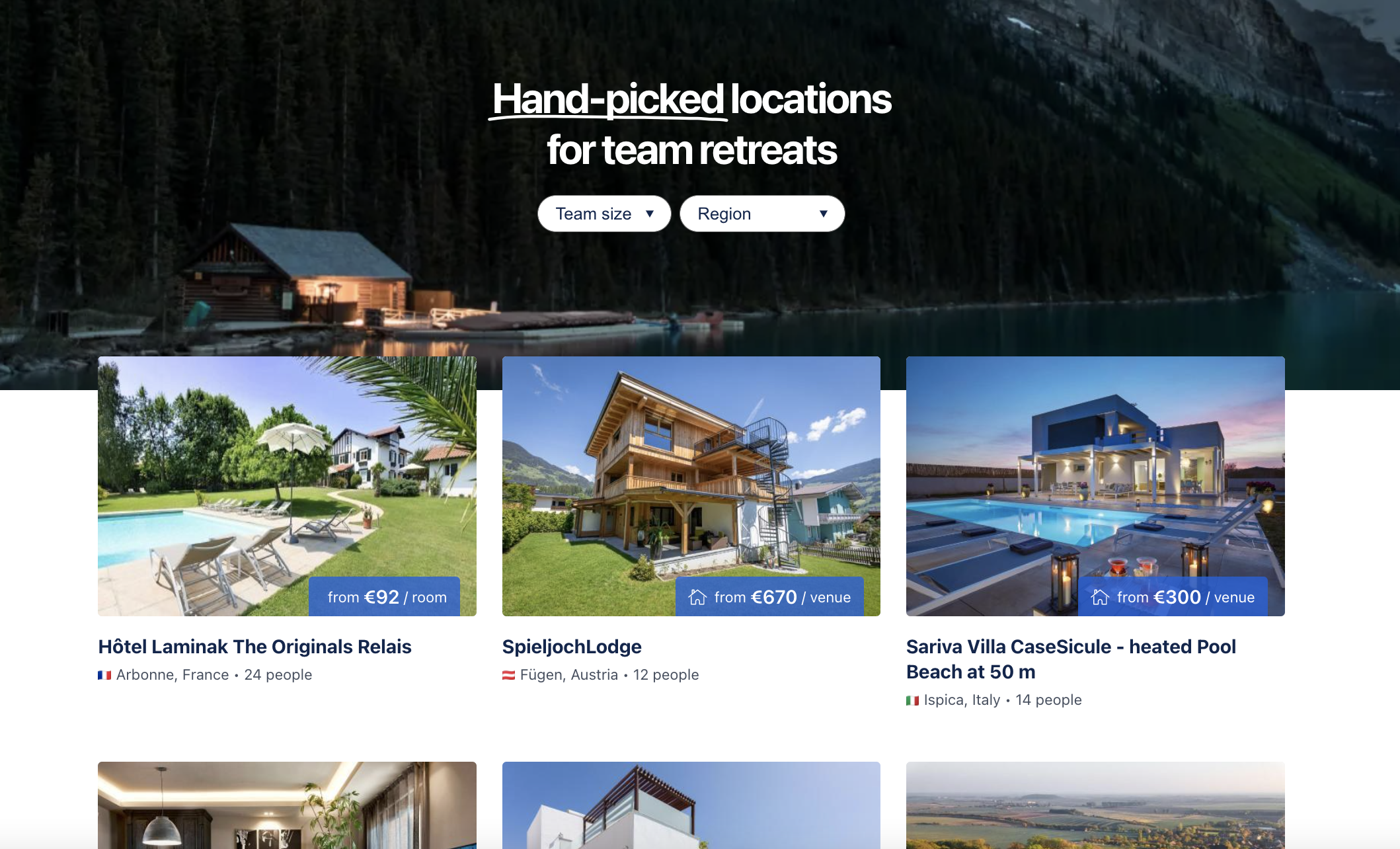 On other side, if you discover a venue that you like and know the dates when you want to travel, you can directly Inquire about availability & pricing for your team stay. You will get an email with an offer from one of our Retreat specialists.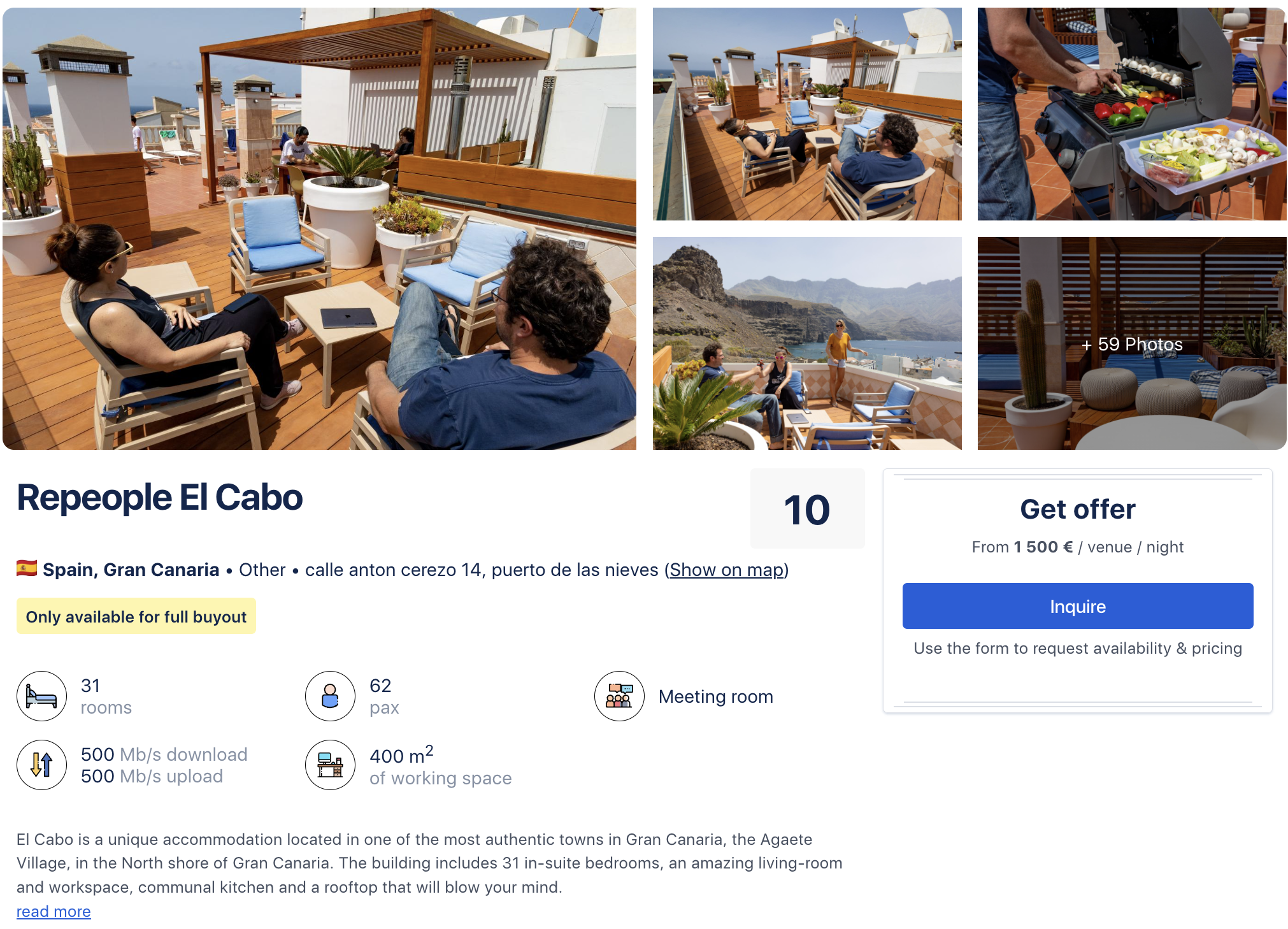 Once there, just enter your team size and a preferred region (Europe or North America) and browse through venues hand-picked by our team of professionals, just like a catalogue designed with teams in mind.
This solution is perfect for you if:
– you are open to various locations and feel like exploring or looking for inspiration
– want to browse only through venues suitable for teams
– want to get a feeling for NextRetreat's inventory before pursuing one of our paid solutions
---

As you can see, we have a solution suitable for almost every type of team retreat, offsite or in-person meetup, even with special requirements. Are you ready to start planning your next team trip? Start here.
We are already looking forward to helping you. And if you have any questions, schedule a demo or just drop us a message at support@nextretreat.com. 😊